October 26, 2018.
"Let's go somewhere." said @mrs.turbodb after I'd been home just a short time from my previous trip. That was of course fine with me, and so we set about finding a place to go. It was going to be cold and rainy on the Washington coast, so we set out looking for somewhere warm.
Now, we only had a few days, so that limited our options - essentially to adjacent states. Oregon was our best bet for warmth, so we started looking for options there - and it didn't take long to fill out the itinerary. Ever since visiting the Owyhee Canyonlands on one of our first adventures, and the Malheur area not long after, we both knew there were places in southeast Oregon that would be great to go see - in @mrs.turbodb's case, some hot springs; in mine, the Alvord Playa at the base of Steens Mountain.
To say we got an early start would be an understatement. We pulled out of the alley and got on I-5 south at just after 5:00am - a long day ahead. Even so, we weren't sure if we'd arrive before dark, the days getting shorter all the time.
Our first stop was several hours south. I'd found a great deal on a set of sliders for our new family adventure vehicle - a new-to-us 1997 4Runner - and with Northwest Trail Innovations only an hour or so out of our way, this was a great time to pick it up. We arrived around 8:30am, and Corey was quick to get us taken care of, as we loaded the sliders from his shop into the back of the Tacoma.
Turns out he's got a second business as well building out remote-controlled Toyota trucks and the jigs made to use them, and he had several on display. Mini AdventureTacos! And AdventureCruisers! Very cool.
From there, it was a lot of driving. We stopped a few times on our way to Snively Hot Springs for food and fuel, but that was about it. Oh, and as we stopped for lunch, I remembered I hadn't cleaned my air filter from the recent trip to Arizona and Utah. So I took the opportunity to do so. Sorry Wendy's.
When we arrived at Snively Hot Springs, it was dark. So, we headed across the creek - it was all BLM land around the springs - and found ourselves a nice perch on top of one of the nearby hills - our hope that the water crossing, gate, and darkness would deter any other campers from our spot.
Then, it was time to eat dinner - cheeseburgers and chips and do a little startgazing before hitting the sack, both of us tired from a long day...but looking forward to the next!
- - - - -
October 27, 2018.
As you might imagine, it was a bit breezy at the top of the hill - the tundra offering what amounted to zero cover - but it wasn't bad and we both slept reasonably well. Knowing that we could have a gorgeous sunrise, I was up early - and that meant that @mrs.turbodb was too - trying to get just the right shot.
As it does, it started out as a deep orange along the horizon, the rest of the sky still mostly dark.
Then, as more light creeps into the sky, clouds further from the horizon pick up some color.
Eventually, the sky beings to brighten - the morning sun now coaxing the deep blue out for the day, the clouds struggling to maintain their pink hue before turning white.
That's the point at which I went back to bed, which had been kept warm while I'd been out of the tent - now beckoning me back inside. We lazied around for a couple more hours - no huge rush to our day (though maybe there should have been). It was 8:15am when we finally both pulled ourselves out of the tent, the sun now warming the area around us, though there were now clouds blowing in.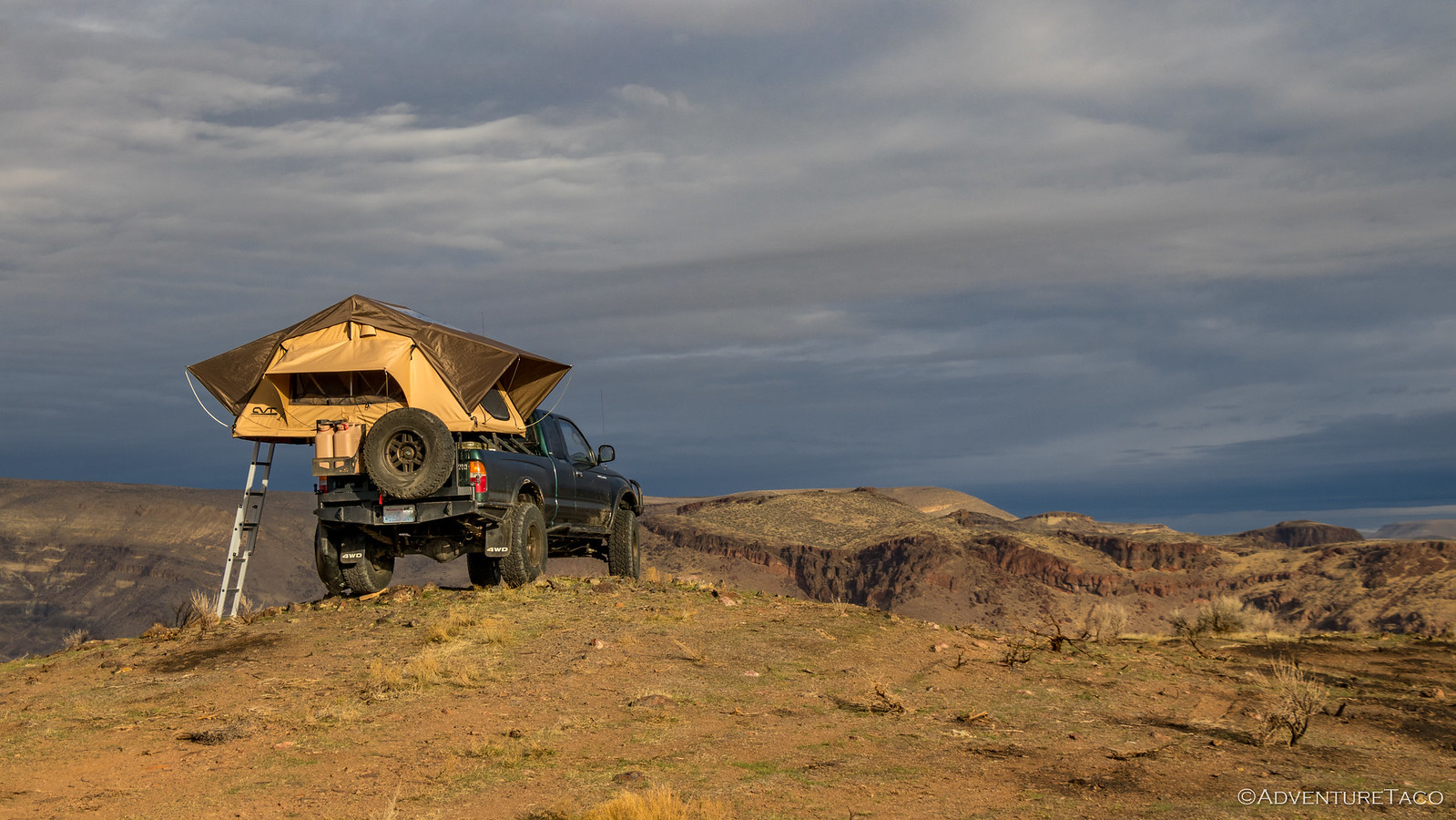 Even @mrs.turbodb got into the action. I think it was really for my benefit though.
Breakfast eaten and the tent put away, we retraced our path down the hill towards Snively Hot Springs, the view we'd wondered about the night before, unfolding before us - typical southeast Oregon - golden hills, a bit of vegetation by the river flowing along their base.
At the base, we discovered the Owyhee Siphon. A tunnel from the Owyhee River to a series of canals, this was part of the larger Owyhee Project that started in 1928 and was completed in 1935. Designed to supply water to eight towns in Oregon and Idaho via gravity flow and siphons from Owyhee Reservoir, the project was not totally successful, and today several pumping plants help move water across the project area.
Also part of the same project, the Snively Siphon was less than a quarter mile away and consisted of entirely different construction - a huge pipeline that hugged the contours of the hillsides, literally sucking water up and down mountains without the need for pumps as it makes its way to lower elevations. This siphon must move a massive amount of water - the truck could have easily driven inside the pipe.
Then, only the river crossing we'd done in the dark the night before stood in our way to Snively Hot Springs, and as it was the night before, the crossing was easy - the water less than a foot deep. Still, daylight made @mrs.turbodb more comfortable as we made our way across and the last quarter mile or so to the springs.
As we arrived at the springs, we were a bit bummed to hear voices emanating from the pools as we walked down. Two locals were there - one soaking and the other doing pool maintenance/construction. Both nice enough guys, but it's always more relaxing to have a hot spring to yourself!
The water flowing into Snively is hot - over 137ºF at the source, and upwards of 120ºF when it enters the first soaking pool. Here, it mixes with cold Owyhee River water and mixes to a more comfortable 103-108ºF across two different pools before fully merging into the river. At least, that's how it was this year - the pool configuration being a constant battle against spring floods, changing dramatically from year-to-year.
Good enough for us, that's for sure!
Our sort-of-soak complete, we were both ready to head out for the rest of our adventure. The plan was to drive through Succor Creek Canyon - previously our exit from exploring the Owyhee Canyonlands - to our next destination: a short hike at Juniper Gulch.
As we started into Succor Creek Canyon, we were both looking forward to the drive - this area was so beautiful the last time we were here - the hills covered in May's spring green grass, blowing in the wind. The hillsides were golden this trip, but striking nonetheless.
We made our way up the canyon faster than I think either of us thought we would - and definitely faster than we made our way down two years earlier. Unsure at first why the canyon seemed so short, we ultimately decided that it seemed that way for two reasons: first, we've been on a lot of trips in the last two years, and we're much more comfortable driving fast on dirt. Second, our tires were aired down, making the route much more comfortable than it must have been before we had the ability to air down (and up with the ARB CKMA12 compressor) for these types of excursions.
Anyway, before we knew it we were off the main gravel road and onto secondary dirt roads - blasting through pasture lands at speeds that had @mrs.turbodb yelping.
Hmm, perhaps I have been influenced by my adventuring partners who I've constantly reminded that I'm a slow driver, and who have constantly reminded me that it's just a matter of time. @Blackdawg @Digiratus @Speedytech7
By lunch time - or what we called lunch time - we were pulling up to the head of our hike at Juniper Gulch - in the Leslie Gulch area of the Owyhee Canyonlands. The geography over the last couple miles was promising to say the least - huge rock formations looming above the road, hopefully just a taste of what was in store for our trek.
Our PB&J sandwiches eaten, our potato chips consumed, and our apples devoured, it was time for us to go explore on foot.The hike itself was a little less than two miles roundtrip - not long - and the sunny day made it a pleasant break from the driving of the last 36 hours.
We saw a bunch of these guys - Bull Thistle - right at the trailhead. Definitely very cool looking, a little internet sleuthing uncovered the fact that they are unfortunately an invasive European species, here to conquer our lands.
Our hike up Juniper Gulch was an easy, fun hike - the gulch not very steep at all, and the area mostly to ourselves. Rock tuff rose up along both sides of the gulch, much of it honeycombed from years of erosion. These formations are 15 million years old, the result of a volcano that blasted a 10-mile wide caldera that then filled with ash over 1000 feet deep. As the ash solidified, minerals colored it the orange, yellow, purple and red we were enjoying today.
The formations got denser and denser the further up the gulch we got, eventually forming a 270º wall around us, the yellow and orange reflecting off the rock - it was like standing in a pot of gold! We were a pair of happy hikers.
But we knew we had a ways to go before camp, so we made tracks back down the gulch - glad we'd visited and both in agreement that this 2-mile hike had way more bang-for-the-buck than the 16-mile Owyhee Honeycombs slog we'd done a couple years before. On our way out, we got one last shot - which turned out to be the same shot that the book we'd been using - 100 Hikes / Travel Guide: Eastern Oregon - used to illustrate the area!
Our brief visit to Owyhee complete, we aired up when we hit pavement and headed west, then a bit north, then a long way south towards Steens Mountain and the Alvord Playa. @mrs.turbodb had planned our route (lucky me), and as we ticked away the highway miles, I was thrilled to hear her say that the next time she planned a route like this, she'd look for more dirt!
As it was, it was 45-minutes before sunset as we turned off of OR-78 (Steens Highway) onto Fields-Denio Rd. This road, while gravel, was so perfectly graded that we had no problem at all maintaining 60mph while fully aired up - Steen's mountain growing slowly in the distance, a trail of dust left in our wake.
As we arrived at the Alvord Playa, the sun had set and the sky was ablaze. Much to @mrs.turbodb's chagrin, we blew past the Alvord Hot Springs - I wanted to get out on the Playa to capture the last of the light, and we still had almost three miles to go until we reached the playa access road.
We bombed down the access road - described as "high clearance" in our book - like we were being chased by something terrible, and I tore out into the flat for as long as I could bear it before stopping to try and capture the last of the color. It wasn't very far, let me tell you!
In the end, we both agreed that it was a special sunset - the playa lending an certain eeriness to the experience, so uniform and flat into the distance.
We'd cut it close again timing wise today - arriving slightly earlier than we had the night before, but wishing we had more time to explore. The last of the light left the sky as we made dinner - again, cheeseburgers and chips - and setup camp.
We enjoyed our burgers as we looked out on the playa - nearly 6 miles of flat lake bed stretching out to our front and sides (the playa is 12-by-7 miles) - lights from the 9 other campers that night barely visible many miles away. It was warm here, and understandably a bit breezy - wind coming down off the mountain and whisking across the flat desert ground.
As we looked up, the stars came out - bright points of light unimpeded by noise pollution, so "nowhere" were we. Well, except for a small spot on the horizon to our east - Boise, ID. Moonless until a bit after midnight, the Milky Way meandered it's way across the sky, the perfect backdrop for several shooting stars.
Eventually - and not too late really, given that it gets dark by 7:00pm this time of year - we decided we'd call it a night. We had a long day of driving ahead of us the next day, and we weren't even sure what route we were taking home.
And as seems to always be the case, we were in for and adventure we never expected...
Looking for more?
Love the Alvord Desert? Check out
the Alvord Desert Index
for all the amazing places I've been in and around this special place over the years.